Why SeaDek
SeaDek Non-Skid is a closed cell EVA decking material. It is non-absorbent, stain resistant, easy to clean, UV resistant and durable in the marine environment. It also offers comfort and anti-fatigue properties over molded-in or other traditional hard surface non-skid applications. SeaDek Non-Skid offers:
Soft cushioned comfort on boat surfaces
Excellent traction both wet and dry
Chip and scratch protection for boats surfaces
Anti-fatigue through shock absorption
Helps quiet noise from dropped items, etc. – a bonus for anglers
Easy peel and stick installation
SeaDek® is a completely customizable material that can be configured for nearly every boating and watercraft application where high quality, comfortable and safe non-skid decking or anti-fatigue footing is required or desired. SeaDek® has a place on any boat or watercraft. Available in many colours, thicknesses and combinations. SeaDek Non-Skid Material is ideal for:
Non-skid boat decking
Coaming pads
Swim steps
Casting platforms
Helm pads
Gunnels
Boat interior carpet replacement
Boat trailers
and much more!
SeaDek® can be customized to your individual needs, taste and desire through:
High precision computer design
CNC / CAD accuracy in fabrication
Multiple colours, textures and finishing techniques for a totally custom installation
SeaDek Product Guide (Click to Enlarge)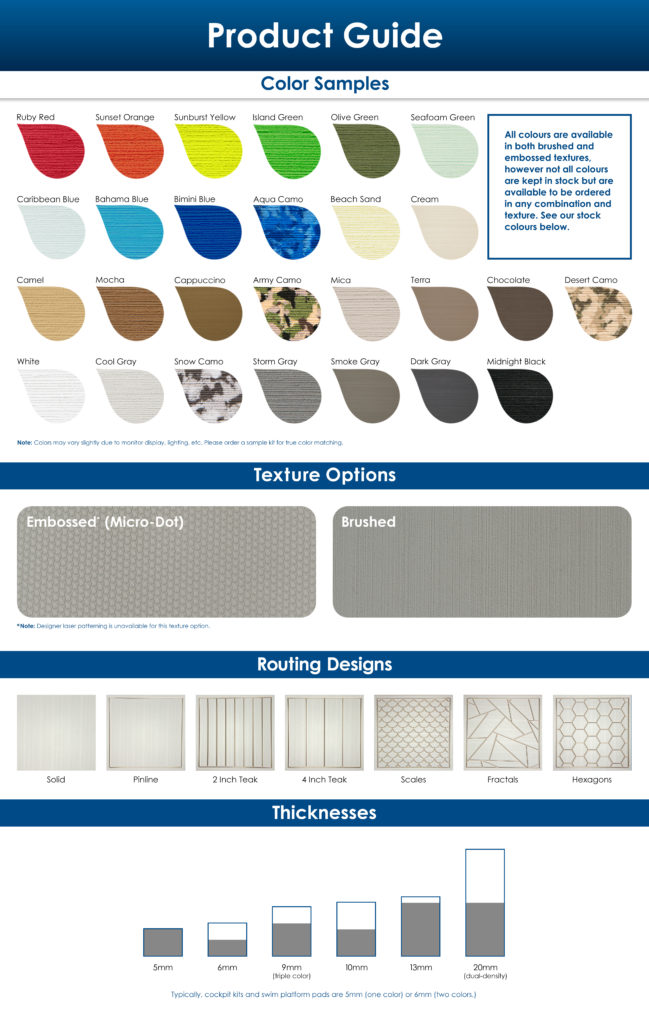 OUR CURRENT STOCK COLOURS:
Single Colour
Dual Colour (Top Colour/ Bottom Colour)

3mm Embossed Storm Grey
3mm Embossed Slate Grey
5mm Embossed Storm Grey
5mm Embossed Midnight Black
5mm Embossed Army Camo
5mm Embossed Snow Camo

6mm Embossed Storm Grey / Black
6mm Embossed Black / Storm Grey
6mm Embossed Storm Grey / Aqua Camo
6mm Embossed Black / Ruby Red
6mm Brushed Storm Grey / Black
6mm Brushed Mocha / Black
6mm Brushed Camel / Mocha
6mm Brushed Mocha / Camel
6mm Brushed Bimini Blue / Black
6mm Brushed Black / Bimini Blue
6mm Brushed Black / Storm Grey
SeaDek has been specifically designed with DIY in mind, and is a 6 step process
Purchase a SeaDek template kit, Available at your local Boating and Outdoors Store.
Template the areas you are wanting fitted with SeaDek following the templating video below.
Ensure all paperwork is filled out and send to us to have a layout produced
Once your templates have been scanned and redrawn, we will supply you a layout for approval
On approval of the layout, your SeaDek is booked to be cut and dispatched
Prep and Install following video below.
How To Videos
We understand that not everyone has the time or is confident enough to install SeaDek themselves, So we have set up a network of Certified Installers to handle jobs from start to finish, all that's required is for you to organize whether you are dropping the boat off to them or if they need to come to you.
Our Certified installers are trained professionals that work in the marine industry, so you can be sure that your boat will be well looked after and installed to the highest standards.
Check out their work:

What is SeaDek?
Durable and shock absorbent EVA/PE foam, SeaDek provides not only an exceptional anti slip traction surface but also lessens the fatigue brought on from prolonged standing and walking on hard decking and platforms. SeaDek also protects your deck from scratching, chipping and dents. Fishermen will appreciate SeaDek's noise reducing qualities. SeaDek is non-absorbent, UV resistant closed cell foam specifically formulated for marine applications. Fishing, sailing, ski boats, commercial marine, platforms and steps are just a few of the unlimited applications for SeaDek Non-Skid Marine Traction. SeaDek's 3M pressure sensitive adhesive backing makes application a breeze. Just measure, cut peel and stick. It's that easy!
How is SeaDek applied?
SeaDek is applied using a pre-applied 3M pressure sensitive adhesive (PSA).
Can SeaDek be applied over existing moulded in fibreglass non skid?
SeaDek adheres very well to most moulded-in non-skids and properly applied and maintained aggregate type non-skid paints, as long as the surface is cleaned properly.
Can SeaDek be applied over existing aluminium tread plates?
We do not recommend applying SeaDek over aluminium tread plates. You are unable to get a good seal around the edges. Salt water residue can become trapped between the SeaDek and the aluminium surface causing corrosion. The tread plate can be ground off to leave a smooth surface to adhere to.
What colours are available?
Stock colours are  ……… Other colours can be indent ordered from USA
What is the best method to clean SeaDek?
SeaDek cleans easily with mild detergent, hot water and a stiff bristle brush. A number of household products can be used such as Spray n Wipe, Simple Green,  etc. Please do not use an acid base cleaner as this could damage your SeaDek.
What do I cut SeaDek with?
Use a fresh bladed Stanley knife. You may have to change blades depending on the size of the job and the amount of cuts made.
Can I get custom cut product?
Yes, if templates or CAD drawings for each part are supplied. If it's a rectangular part such as for a helm pad or cooler boxr you can supply dimensions or a sketch
What is the cost per square metre?
Price is determined by material used and labour time.
What is the largest size I can order?
2 metres x 1 metre in sheet form.
What is the life expectancy?
Five to seven years. Longer if the boat is stored inside or if the SeaDek is under a cover.
What is the warranty?
SeaDek marine products are warranted to be free from any defects at the time of purchase. The EVA has a 36 month material and workmanship warranty. The PSA cannot be warranted due to many outside issues that may be present during installation. Full warranty details are available for download here:  Warranty Information
Can I get a custom sized helm pad?
Yes, provide dimensions and a quote will be provided.
Can I get a logo on my custom helm pad?
Yes, provide a pdf and dimensions and a quote will be provided
Can SeaDek sheets be seamed?
This is not recommended. Even with a very small shrink rate, a small gap between sheets will be present. We recommend leaving a 10mm  gap between panels.
How long will it stayed adhered?
If proper preparation has been done, you can expect at least 5-7 years of life or longer if the boat is stored under cover.